the square cloud
In my last post I forgot to mention the sudden flea infestiation. Sigh. And this stupid lizard is huge and FAST
Ok here is the funny shapped cloud I told you about in the last post. I drew a red box around it to pin point it for ya's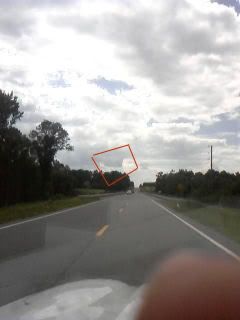 Ok while I wait for photobucket to load so I can pick up the link, I went to the alltel store on Friday and they updated my phone number to a local number. How about that I've been on a waiting list for a local cell number. Hard to believe that there are that many numbers used up in this area. Our entire county has a pouplation of around 5 thousand! Get off of it and give us more numbers to be avail. As it was a Wrightsville number (although there are W'ville numbers owned by Alltel) was not available so I had to get a Sandersville number. Still a local call from the house and better then a long distance one from the house. Anyway... the guy that waited on me looked like "Chad" from the Alltel comercial. I had to laugh. I go to school with the guy and he is a full term student. So, over the summer he has gone from the hippie hair do, to this bleach blonde Chad thing. I looked at him and held my breathe a second to prevent an inopertune laugh from errupting and then he just grinned and says, "It's OK, It was not a JOB requirment!" and his boss (who was waiting on me) snickered.
http://articles.moneycentral.msn.com/Investing/CompanyFocus/CouldYourBankBeTheNextToFail.aspx
but our banks are not closing!
Labels: cell number, chad, closing banks, clouds, flea's, lizards