This is in honor of all you with NORMAL animals
*Disclaimer* First I want you to know that my animals are retarded. My horses think they are dogs or now, I've got one that thinks HE is a human WOMAN... My dogs don't really understand that they are dogs. Second I really must insist that if your a horse person you will understand, but if your not a horse person you won't. Misty is the large black horse you will see and if you think she is thin, she is. She is also 34 and alive with the grace of God and a really good vet that keeps telling me it is "
Time
" and I am not ready to rent a backhoe. So, please, she is under vet care, old and not being starved. This is what happens to old horses. She is (as of last week) up to 8 lbs of a senior feed with a pound of cracked corn mixed in. This is split up into two servings a day and within the last six months she has had her teeth "floated". Third, freckles was not hit with the clothes basket, it was waved at him in effort to shoo him away. But it wouldn't have hurt him if he was!
Having said that, please enjoy my retarded animal photo journal and my photos of my personal kids.
OK. This first section is a play by play of what Freckles would be saying if he could speak human: Oh and he only helps with the Whites. Mind you the entire time I am laughing my ass off and Sue is yelling at me, "It isin't funny, Jenn!" But apparantly I thought it was funny enough to bring my camera along in my pocket.
"Oh look, clothes on the line, is anyone watching?"
"Hmmm, what do we have in here... WHITES... I only help when there are whites being hung out! NEIGH... Oh, I mean, YEA!!!!"
"Did Granma see me?"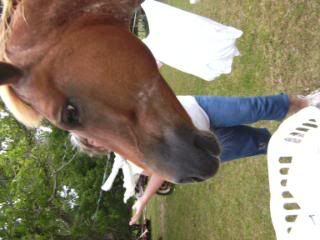 "OOPs I didn't do that, what are you looking at? It wasn't me, it was grandma, HONEST!!"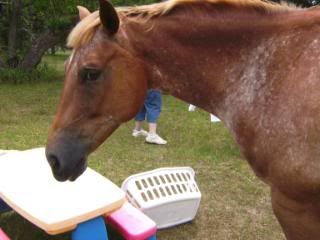 "Here, let me pick it up."
"Dang it, I don't have thumbs, let me just knock it upside down."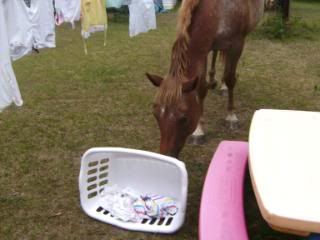 "Busted!"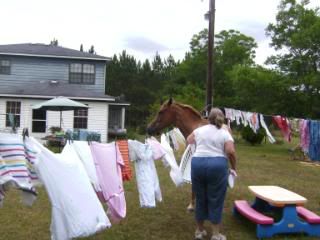 "BUT GRANDMA, I'M HELPING!!!!"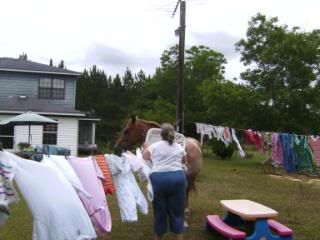 Lawn mowers hard at work
Misty at the salt block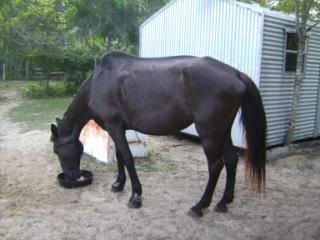 Misty in the shade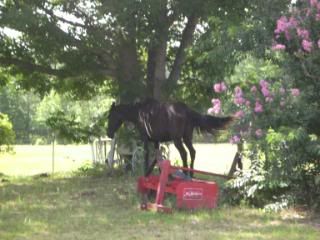 Comanche in the lean too
Freckles trimming around the hay bales, honest that is NOT hay in his mouth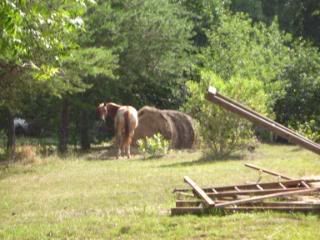 Peanut showing off his white coat after a bath and then he escaped outside...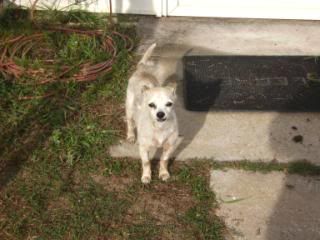 Jeter guarding the lawn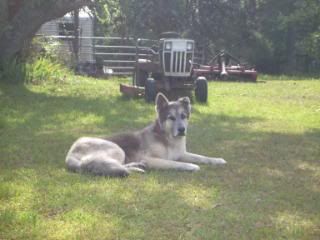 LOOK MOMMY BOUGHT A NEW SWING SET
And then because he couldn't resist the colors ....
Freckles in action AGAIN (needless to say he is in the barn now!)
OOOh... is anyone watching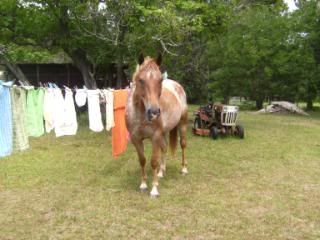 *SNICKER SNICKER... she will wonder how she got this stain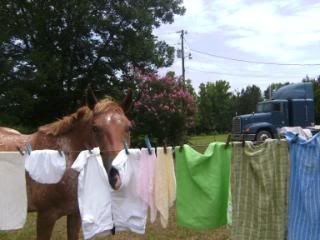 Hmmm... Who used this wash cloth to take off makeup?