Sunday November 9th, 2008
What an adventure today! Lets see, we left the house at 8:30am to go grocery shopping and got home at 3:40 p.m. Fun? It is always an adventure going to Dublin with Sue and the Kids. First stop BigLots and we picked up a few things. Then we went to Shoneys for breakfast. Both Molly and Lulu suprised me by getting seconds at the breakfast buffet. Maybe I don't feed them enough! LOL. Wow.
Then onto the big Walmart. Where we saw this.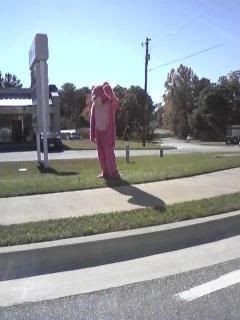 Lulu was like, :Whats that:
Molly:uth a pink cat:
lulu: Uth no:
I think I got most of my walmart bingo. LOL. I din't continue to snap pictures tho! First stop was the potty and I had to deviate to the back of the store! they have the rest room conviently located next to the toys. This was around noon that we finally made it to the grocery store. I call walmart the grocery store because they have managed to close down every grocery store in all these small towns. Then they go and jack their prices up because they have a monopoly. I wish the gvt could go in and shut them down. Honest to god. They are not the store that wally stated. It used to be the american store. You could go in there and purchase thing made in america, only. SIGH. Now your prolly getting lead poision just walking into the store. Such is life.
We bought the bulk for the month. Needless to say the back of the jeep was not big enough and we ended up having groceries packed around the car seat, the floor by the car seat and the floor around molly. But damn, didn't I just go grocery shopping a few days ago?
I could see the rational of this if we sat around and ate all day or even if we cooked elaborate meals. But we don't.
Food for the day: on a regular basis
Cereal for breakfast (weekends french toast made from stale bread, panacakes, sausage/bacon eggs and orange juice)
Lunch - school - manny bags it, lulu's is provided, I either bag it or get something at the school.
Dinner- Misc and depending on time. If we are late getitng in then it is hot dogs and mac and cheese for the kids and usually i skip dinner. Sue and Harry eat early on the days we are late. On time days, a frozen dinner, spag, kelly burgers, or some breakfasty thing like bacon and eggs
Desert- rarely although we have been hitting the sweets hard this last month
Seee? But I am going to keep track of it this week, who eats what!
Puppies were funny tonight. Molly let them all out while we brought in groceries. Except Scarlet. She went in the outide cage. Everyone took time to love and play with each puppy. Bear is a hambone, Ani is all the sudden terrible jealous over Scarlet, Scarlet is a dram queen and T is T. LOL. Scarlet's ears look really good. I am please with how they are healing and I will post a pic of them as soon as I get a chance to take one.
That is it in the world of Jenn. Going broke because we gotta feed our guts.
Labels: Eating food, groceries, inflation, kids, puppies