pic's of the parade
Quote of the day:"He who has no Christmas in his heart will never find Christmas under a tree." Roy L. Smith
Song of the day: "O come all ye faithful"
The bobcat mascot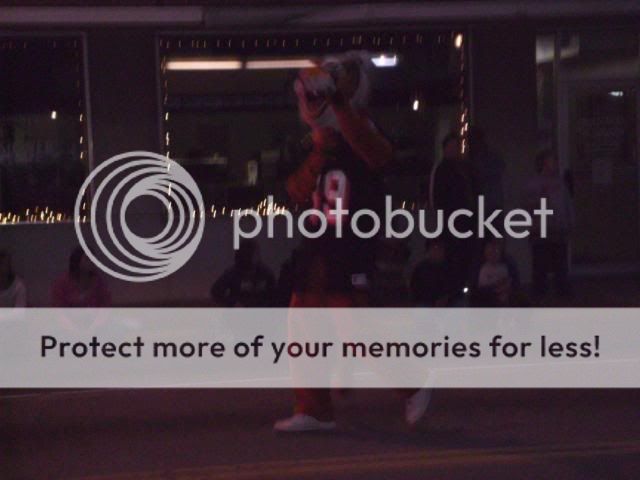 uth huh, we r in the kuntry
The best shot of mr and Ms east georgia college
The crazy looking clown that scared the kids
The horse that the fellow was having a hard time controlling and I made my two and Ana's 4 back up out of the way. I think it is cruel to put a horse in a parade that is nervous like that. At least give him a dose of a sedative to calm him down. You can't see it in that pic but his chest had about an inch of white froth on it and so did between his legs. His ears were flat back and his chin was cruely held to his neck.
Molly on stage at the carolers stand
Thank God that's over!!!!
I have abot 50 other pic's of the parade but they either are way blurry, the ugly fat chick was in the way, it was too dark, it was too redneck.... whatever.
And I have nothing against being ugly or fat, hey I look in the mirror everyday! But I asked this woman several times to please stop jumping in front of me and she was rude. So I shall call her ugly and fat and I shall post a pic of her fat swainsboro ass
Labels: EGC float, fat ass, horses, swainsboro parade