Vacation stuff
Hey Ya'll, this post is going to be kind of long and loaded with pictures. If you want to skip the load time here then go to my photobucket two over there on the side bar to view the pictures.
The Cabin
Hee Hee, just joking that was something at DollyWood! The cabin is Hooks Haven (02) at
www.brotherscove.com
and I forgot to take a picture of the outside of it but they have one at that link under three bedroom cabins.

April 1, 2009


J Of course an April Fool's day joke is not all that funny if there is no Wi-Fi signal to be able to send the … oh … I don't know, how about the "April Fools" part of it!!!! Doc made it here about eight tonight, I was really anxious, so I went down to the end of the road to meet him and put the code in the gate for him. We stood there and kissed for like ten minutes! Awwww!!!!!
And thus, here is my fav room in the cabin:

April 2


What can I say; today was just cool beyond all that is coolness. We went to Dollywood. Lulu was good, Molly was good, Eric was bad (really, really, super bad), I was relatively good, and I rented Sue an electric wheel chair so she was able to get around really good. All and all we had a good time.

Molly and I went on a lot of rides. We went on one that was a water squirt gun ride. Ok, here is how it goes. You go down a controlled rapid and people on the sidewalk can squirt you with water guns. You in the boat have the illusion that you can shoot them back but it is just an illusion as the water in your gun falls short about a foot. OK. WRONG. There are just so many things wrong with NOT being able to retaliate! ESPECIALLY when one of the "kids" on the sidewalk is the 48 year old love of your life; and I mean he was shooting ME, like running from one water gun to the next and BLASTING me! He was all like… pushing little kids out of the way and tossing old ladies aside to get to the guns… to water bomb me! Kids! Here he is all trying to look innocent or somethng:

Here is my blackmail picture. LOL. My hair was done prior to getting soaked but instead he gets his picture taken with a soggy looking Jenn



It took us the better side of the entire day but we made it through the entire park. There were a few rides we did not get to that we would have like to go on but for the most part… it was great! Lucy loved the critter park for kids. They had a roller coaster that was rubber duckies.


She liked the ducks but she did not like the bumble bee! The bee spun in circles and went up and down where the ducks just went round and round.


She also like the carousal. On the carousal she rode the piggy and then she rode the rooster. Hey, how about that! We ended the day with a ride on the Dollywood express.



April 3, 2009


J Can you give me a big fat LAZY? As that is what we have been today. We choose today as our day off to relax and enjoy the cabin. We played in the Jacuzzi with the kids. We had a BBQ. The kids colored. Eric and I played.

What I didn't get to do was sleep in! Can you believe that? I woke up at o dark thirty and just knew I heard the coffee pot brewing. I'd set it up the night before so it made perfect sense! Sue had gotten up and had turned on the coffee pot! I threw on a pair of sweats and my ugly red sweater and I came out to the kitchen. Needless to say, no one was up and it was a very dark 5:15 am. I turned on the coffee pot anyway and went potty. I came out of the bathroom and Sue scared the day light s out of me. She was in the kitchen getting coffee cups down and creamer out! LOL. She said she smelt it upstairs and came down for a cup! Glad I didn't take my clothes back off! THAT would have been funny.

Right now we got the fire going in the fire place. It is going to be around 38 tonight. Eric and I are fixing to run out and jump in the Jacuzzi… alone and naked. Hee Hee.

Apr1l 4
Almost got married today. *SIGH* Eric Chickened out. Or did I? Today we wet to the Aquarium.


Is this thing (a sword fish) not the creepiest damn thing you've ever seen?


Nemo


Dori


Pretty


I did not care much for the aquarium. They were in major violations of the Americans with Disabilities Act and I did end up demanding our money back because Sue could not get into any of the exhibits.

Next was the Dixie Stampead. This was the most fun. No camera's were allowed inside but you can google that for visual details. Molly got to be a part of the act! There is so much to be said about that show, I will make a seperate post when time permits.

Lastly we went minature golfing. That was pretty neat. Eric won. LOL. I came in dead last. Sigh.

We finished the day with a little shopping and I lost both Eric and Molly to the belly of a shark.



Some on the drive home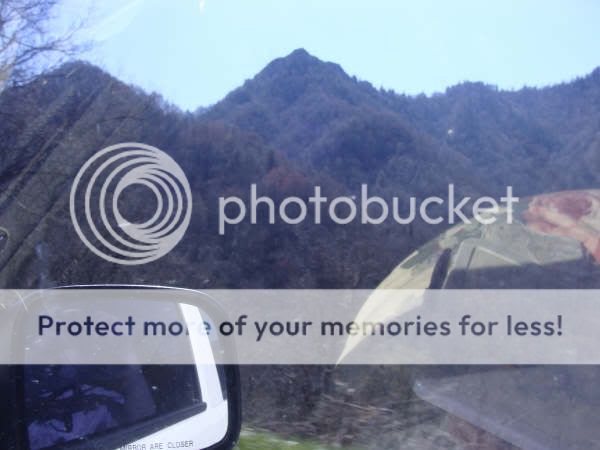 And finally the pitstop in Cherokee NC



Tribal Dance