Star Wars; The Clone Wars
I admit I did not know that this was animated. But it was good. I'll buy it for the Star Wars collection when it is on DVD.
I also admit we are a small town and country. This is why I choose to go normal and not all Star Wars Cultic. But I did think of it! And sorry some are so dark, it is the camera phone and not well lit in there... but it is cool. This is what counts for a movie theater here in the big city of Louisville. Hey at least we got one! And it is a dinner and a movie place.
Here is the Pal Pal movie threater from the outside...
Here is the clerk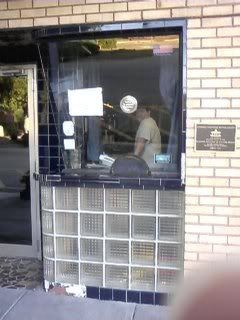 Inside looking down the theater
The Mural
The dragon on the mural
All 4 of the kiddos
The Girls
DJ and Lulu
DJ .. How can u not love him, This is one of the two kids that are my cusin's ...He is the one that said a few months ago that he'd see me when he grew up... GUESS what... he ain't growed up yet and guess who has him. GRR.
OK then not movie related.... EUREKA... couldn't resist
And here is one that don't make sense to me. WHY would you put at least two thousand bucks worth of tires and rims on a three hundred dollar car? This idiot pulled in next to me at college on thursday. Some people.
Labels: clone wars, Eureka, FUN, kids, stupid people